As summer begins, it is a reminder for emergency managers to review heat-related plans to mitigate potential impacts, especially among vulnerable populations. The 1995 Chicago heatwave, which killed over 700 people, remains a stark reminder of the impacts extreme heat can have on disproportionately impacted populations, especially low-income, older adults, and minority communities.
Extreme heat events continue to affect communities across the U.S., with climate change causing extreme heat in areas unaccustomed to such events. The high temperatures in the Pacific Northwest in 2021 had a profound impact on the region, exposing the vulnerabilities of communities and infrastructure, with a significant increase in heat-related deaths, power outages, road damages, crop losses, and increased wildfires. And this year, the NOAA's Seasonal Temperature Outlook for July, August, and September shows that the summer months are likely to bring above normal temperatures to most of the U.S.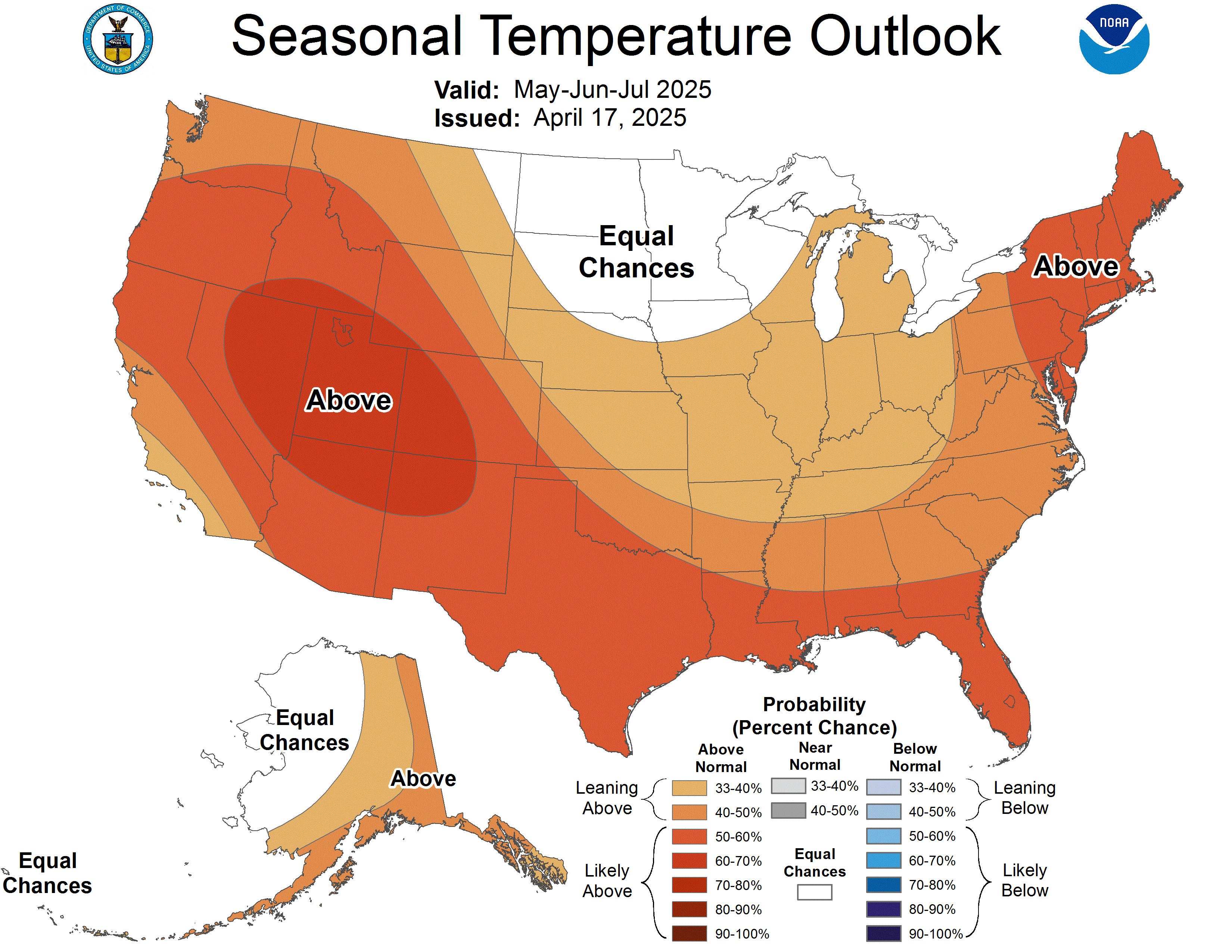 Image Credit: NOAA
As we approach July, the overall warmest month for the U.S., emergency managers can take the following actions to prepare their communities for extreme heat:
1. Utilize Inclusive Emergency Management Planning
Consider developing an Extreme Heat Plan. Conduct a thorough risk and vulnerability assessment to determine the populations who will experience disproportionate impacts during extreme heat events. Factors such as age, socioeconomic status, health conditions, access to resources, and availability of neighborhood green space can influence expected impacts. To promote inclusivity, consider the following:
Include representatives from populations who will be disproportionately impacted by heat events in the planning process. Their insights and experiences will inform strategies to effectively address specific needs. Examples of potential stakeholders include neighborhood associations, centers for independent living, advocacy groups, and faith-based partners.

Heat-related plans should include specific strategies to reduce vulnerability, such as cooling centers, providing fresh water, and conducting wellness checks. Additional strategies may include providing transportation services for evacuation, deploying mobile cooling units to neighborhoods with limited resources, or establishing dedicated hotlines for assistance. 
2. Develop a Comprehensive Public Education and Awareness Campaign
Develop a comprehensive public education campaign to help
residents understand what steps to take before and during extreme heat. Campaigns should include information on heat illness prevention, hydration, recognizing heat-related symptoms, the importance of seeking assistance during extreme heat events, and available resources during heat events. To craft a strong campaign, consider the following:
Establish robust and redundant emergency communication 

systems to disseminate real-time alerts and updates during extreme heat events. 

Utilize various communication channels, including social media, local news outlets, community centers, and public announcements to disseminate heat safety messages.

Ensure that the information reaches all segments of the population, including non-English speakers and individuals with access and functional needs. Engage with community leaders, neighborhood associations, and grassroots organizations to reach populations directly via trusted networks.
3. Collaborate with Utility Companies
Work with local utility companies to better understand their
plans for extreme heat. The electrical grid can be vulnerable to extreme heat, and utility companies in some areas, such as California, are developing Public Safety Power Shutoff (PSPS) plans and protocols. PSPSs are temporary, intentional power outages intended to mitigate the risk of wildfires during extreme heat. To promote robust collaboration, consider the following: 
Develop a clear communication channel with local utility
companies to stay updated on the status of potential power shutoffs and coordinate emergency response efforts. If a utility company plans a power outage, emergency managers should have plans for how to amplify messaging and
provide detailed preparedness information to the public.
Work with critical partners, such as first responders, hospitals, assisted living facilities, and emergency shelters, to ensure continuity of essential services during power outage events. Ensure that backup power sources and alternative cooling measures are in place to protect the health and well-being of individuals who rely on these facilities.
 
Conclusion
As climate change continues to influence extreme heat events, emergency managers can take steps now to prepare for future events and minimize impacts.
About the Author
Kim Hayward Buys is a Senior Associate with CONSTANT, where she leads and supports a suite of emergency management planning, training, exercise, and outreach projects. In former roles, Kim spent over ten years working at the Federal Emergency Management Agency (FEMA), where she was responsible for developing inclusive strategies to increase community preparedness and resilience. Kim also formerly served as the Chief Deputy Director for Cook County, Illinois' Department of Emergency Management and Regional Security, which is the second largest county in the United States.
Contact Us
CONSTANT is here for you. If your agency requires assistance with inclusive planning for extreme heat events, contact our Business Development Team at staff@constantassociates.com.